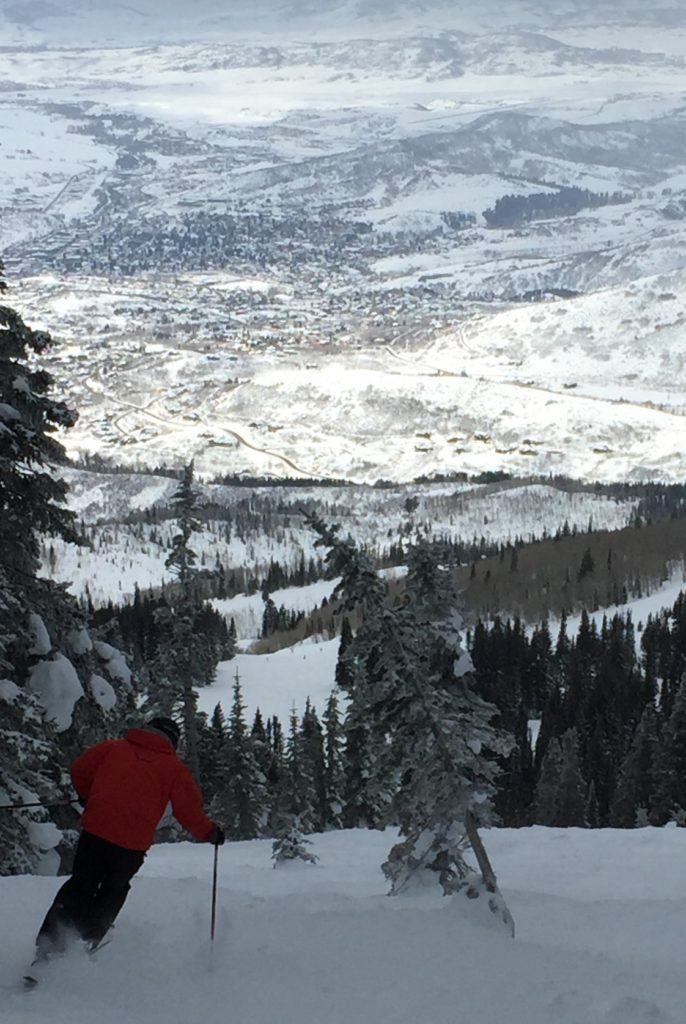 Special to the Washington Post
Dec. 3, 2015
Watching a pounding snowstorm from a chairlift at Steamboat ski resort, in northern Colorado, I feel the symptoms rising — shortening breath, furrowing brow, sulking self-pity. It's a classic case of Parental Powder Anxiety Syndrome.
I am sandwiched between my son, Kai (6), and daughter, Christina (3), the three of us readying for another baaaack and forth descent of a nearly flat green-dot run. Somewhere far above us, no doubt near the top of Steamboat's 3,668-foot vertical rise, my wife, Cathleen, who drew the long straw today, is carving turns through the fresh-falling quilt of white. It's the first big snow Steamboat has seen in weeks. Even worse, it's the last day of our vacation.
Then, like a shape-shifting character in a movie, a graybeard sharing our chair turns to me: "Hanging with the grommets on a powder day, huh? Enjoy every minute of it. These years go by way too quickly."
Nice call, Gandalf. My symptoms recede.
We are here, in late January, to slope-test Steamboat's claim that it is exceedingly family-friendly. So far, the resort, along with the adjacent 115-year-old town of Steamboat Springs, is firing on all cylinders.
Okay, I know: No single place will suit every clan. For example, when I asked my social media community for favorite family resorts, I got a different answer from almost every respondent.
"Park City, Utah!" said one, citing the chairlift that departs from the center of town.
Holiday Valley, in Ellicottville, N.Y., said another. "Quaint Western N.Y. snowbelt town and a fun mountain!"
Votes rolled in for resorts big — Vail, Aspen, Deer Valley — and small, from Black Mountain, New Hampshire, to Homewood Mountain resort on Lake Tahoe.
"Dude," wrote a college friend, "Hands down, Monarch, Colorado — old-school inexpensive, 1970s lodge, killer steeps for Dad [and, presumably, Mom], tons of snow."
For those who are new to the family ski game, here are some factors that raise a resort's appeal: variety of terrain, with beginner slopes that are close to restaurants and bathrooms; short, easy passage from lodging to lifts; at least one enclosed lift, such as a gondola, that accesses gentle terrain; pleasant, well-trained ski school staff; and ample off-slope diversions.
In the 1970s, my parents found most of that at Seven Springs, Pa., to which half our neighborhood would decamp for three days every February. Vacationing with a herd of friends assured fun for us kids and only occasional drawbacks for my parents — for example, when I threw an on-slope, Category 5 tantrum, cursing well beyond my grade level while hurling skis, boots and socks into a snow bank and stomping barefoot to the lodge.
My children have exhibited no such petulance and in fact are delighted with Steamboat's variety of novice terrain. Kai's favorite is Why Not, which meanders three miles from the top of the gondola to the base; Christina, unaware that gravity is more reliable than her father, is happiest when I scoop her up and carry her through wide, arcing turns.
On our second day at Steamboat, Cathleen and I drop the kids at ski school, where dulcet-toned staff efficiently check in the children while counseling all of us through the separation anxiety.
We then join Gable Richardella, an affable, animated instructor, for a tour around the mountain.
I've met 100 guys with his story — came to a fun-focused town for one season 20 years ago and never left — but Richardella seems more content than most. This he assigns to the Steamboat vibe.
"We're a grounded community here," he says after leading us through one of the mountain's many rolling glades. "Sure, we get excited on powder days, but no one is knocking you over to beat you to first tracks."
One probable reason is Steamboat's lack of hospital-grade chutes, cornices and cliffs, which discourages maniacally aggro skiers from settling, or even vacationing, here. In our six days, I don't feel any of the macho one-upmanship that prevails at more-radical mountains.
For advanced skiers, the main draw here is the trees, with nearly two-thirds of the mountain featuring some arboreal cover. This is a boon during storm cycles, when deep powder can help skiers check their speed in the tighter stands of forest.
But with much of the woods rendered perilous by an uncommonly dry January, we find our fun on corduroy groomers, sun-softened bump runs and the thinner glades. With less urgency to ski from opening to closing, we also explore our hotel, the 328-room Steamboat Grand, which looms across the street from the base area.
The Grand lacks in character — fewer heirlooms for my children to destroy — but compensates with well-appointed rooms, a pool and two massive outdoor hot tubs, and an adjacent fitness center where, hilariously, the front desk doubles as a bar. When we arrive, bathrobe-clad guests are ordering apres-ski drinks, which are then delivered poolside.
We're tempted to get comfortable, but there are other hot tubs to explore. On a Sunday afternoon we drive three miles to the Old Town Hot Springs. The Ute Indians, who once summered in these parts, called the gurgling baths medicine springs.
My kids call them awesome, in part due to post-Ute features, including a 250-foot water slide and aquatic climbing wall, which allows white-knuckled youngsters to fall into water. A single spring pumps 220 gallons per minute of 102-degree water into a stone-lined pool, which in turn feeds seven others. There's also an eight-lane lap pool.
Another day we pop into F.M. Light & Sons, an everything-Western store that originated as a men's clothier in 1905 and is owned by the founder's great-great-granddaughter. It's redolent of leather, denim and its worn wood floor. With the selection of jeans, cowboy boots and hats, plaid shirts and leather gloves, we could walk out of here as a remade ranch-hand family, but instead escape with a plastic bow-and-arrow set and a satchel of crystals for the kids.
Among the other red-brick storefronts lining Lincoln Avenue, the town's main drag, we fail to notice two candy stores, a chocolate factory and an old-fashioned soda fountain tucked into a drugstore. No great loss, because this allows us to arrive at dinner hungry.
The Laundry, a gastropub with an exposed brick interior, wooden tables and arsenal of artisanal spirits, is among the newer of Steamboat Springs' dozens of restaurants and bars. We share small plates of blistered shishito peppers, squash hummus, fried sweet potatoes and duck tacos.
Our waitress then looks on with some amazement as Kai and Christina abolish a large plate of beef short ribs.
We carry that theme into dinner the next night, boarding the gondola at 7 p.m. (woolen blankets provided) for a ride up to the Thunderhead Lodge. There, on weekends, the resort offers a Western barbecue buffet and live band. Although the food is unremarkable, and the unguarded dessert table sends K and C into the sugarsphere, the band is surprisingly good, mixing country rock, country swing, country ballads and country children's singalongs. They even emcee, with admirable enthusiasm, a balance-the-spoon-on-your-nose contest, in which Kai places second.
We ride the gondola down, shifting our gaze between the twinkling lights of town and the dark Yampa Valley beyond.
I envision the day when Kai and Christina are our ski partners, not dependents, and I am advising some conflicted dad to enjoy his kids. But you can't get too ahead of yourself. So I shift the daydream to a near-future powder day on a family ski vacation when my wonderful wife draws the short straw.